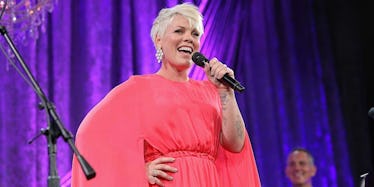 P!nk's VMAs Acceptance Speech Was All About Living Your Truth: "Keep Shining"
Chelsea Lauren/Getty Images
P!nk delivered one of the most powerful speeches at the 2017 VMAs. Using her daughter as inspiration, her speech was something we all needed to hear. She spoke on gender, stereotypes, and living your own truth. Seriously, take the transcript Of P!nk's VMAs speech and hang it on your wall. In the words of P!nk,
Keep shining for the rest of us to see.
P!nk is known for being strong, powerful, and an overall badass chick. It's no surprise that she's raising her daughter to be the same way. She used her Michael Jackson Video Vanguard Award acceptance speech to share this story,
Recently, I was driving my daughter to school, and she said to me, out of the blue, 'I'm the ugliest girl I know ... Yeah, I look like a boy with long hair.'
OK, so I'm already literally crying. Obviously, this was also shocking to P!nk.
My brain went, 'Oh my god, you're six, why ... where is this coming from? Who said this? Can I kick a six year old's ass, like, what?'
Instead of getting mad or sad, P!nk decided to educate her daughter.
But I didn't say anything, and instead I went home and I made a Powerpoint presentation for her. In that presentation were androgynous rock stars and artists that live their truth. [These artists] are probably made fun of everyday of their life, and carry on, and wave their flag, and inspire the rest of us — and these are artists like Michael Jackson, and David Bowie, and Freddie Mercury, and Annie Lennox, and Prince, and Janis Joplin, and George Michael, and Elton John, and so many artists, her eyes glazed over.
Seriously, mom goals AF. P!nk went on to explain that people have made fun of her for being too masculine, having too many opinions, or being too strong. However, she doesn't cave to pressure or change the way she looks.
We don't change. We take the gravel and the shell and we make a pearl. We help other people to change so that they can see more kinds of beauty.
That story seemed to have an impact on everyone (including her daughter). She went on,
And to all the artists here, I'm so inspired by you. Thank you for being your true selves and for lighting the way for us. I'm so inspired by you guys. There's so much rad shit happening right now in music. Keep doing it. Keep shining for the rest of us to see.
I didn't think it was possible to love P!nk any more, but I do. Truly amazing speech from a one-of-a-kind artist.