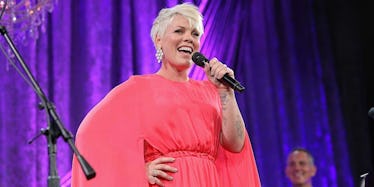 P!nk Was Asked To Pick Between Taylor Swift & Katy Perry & It Was So, So Awkward
Chelsea Lauren/Getty Images
It's no secret that a feud between Taylor Swift and Katy Perry has been going on for like... ever. It's kind of the best thing to ever happen in pop culture, but also the worst thing because we love them both so much. P!nk, on the other hand, is only on one side, and it's Team Taylor. In a recent interview, P!nk picked Taylor Swift over Katy Perry and it's awkward AF. Whaaaat? Who knew? I always assumed P!nk would be Team Perry! You're always surprising us, P!nk.
The singer was on the U.K. radio station KISS FM and was asked, "Taylor or Katy [Perry]?" P!nk responded with, "Taylor? Is that OK?" Ohhh, snap. She went there. She totally went there. She also added,
You can't win no matter what you say, anyway. Everyone wakes up offended.
It wasn't until recently that the Swift and Perry fighting rumors were confirmed by Perry on James Corden's The Late Late Show, and it was a magical moment for us all. Although literally, everyone already knew sh*t was going down, it was great to get that sort of confirmation. You know? She told the host,
She started it, and it's time for her to finish it.
Drama with a capital 'D'!
Perry may have written "Swish Swish" about Swift, but in an interview with Australia's Today show, Perry spread some surprising love.
She said,
I mean, I love her, I always have. We've had our differences, but I just continue to say, 'God bless her on her journey.'
Well, there you have it. This feud has gone on for so long that it's hard to get involved, whether you're a celebrity or just a fan.
Hopefully one day Swift and Perry will stop all this nonsense and collaborate on a makeup song! They could call it, "Good Blood!"