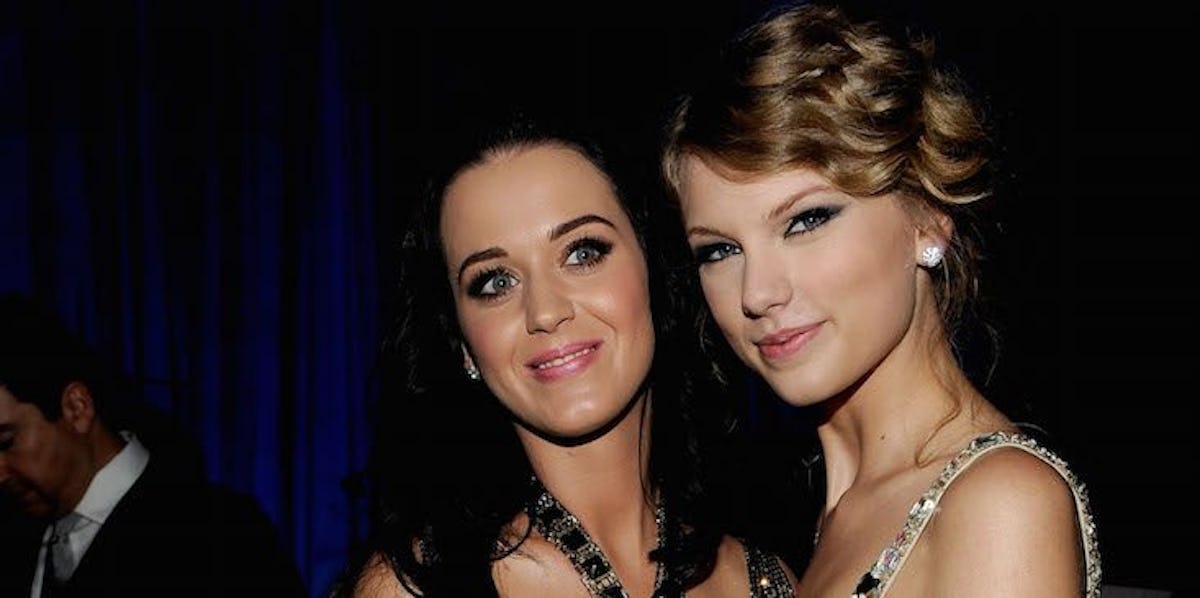 Katy Perry Says She Loves Taylor Swift Despite Their Feud: "I Always Have"
Getty Images
Katy Perry really wants to bury the hatchet with Taylor Swift. In an interview with Australia's Today show, Perry said that despite the five years of arguing between her and Swift, she still loves her and her music.
She said,
I mean, I love her, I always have. We've had our differences, but I just continue to say, 'God bless her on her journey.'
Should we just cancel the last five years then? No, I refuse. This must end in a gladiator's duel!
Just kidding. That's objectively the worst idea ever. They should have a transparent heart-to-heart where both of them own up to the pain they caused, accept each other's apologies, and be done with it.
Got that, Kay Swift? Cool. Great. Moving on.
Leading up to and following the release of her newest album, Witness (which came out on June 9, 2017), Perry has been sending very public PSAs to Swift saying she wants to end the feud between them (even though one of her songs, "Swish Swish," is a clear response to Swift's "Bad Blood").
During a segment of Carpool Karaoke with James Corden, Perry said,
But what I want to say is that I'm ready for that BS to be done. Now, there is the law of cause and effect. You do something, there's going to be a reaction, and trust me, daddy, there's going to be a reaction. It's all about karma, right? I think personally that women together, not divided, and none of this petty bulls–t, women together will heal the world.
Perry also said the same to Arianna Huffington during a weekend-long livestream she did to promote Witness the weekend it dropped. Perry told Huffington,
I forgive [Swift], and I'm sorry for anything I ever did, and I hope the same from her, and I think it's actually… I think it's time. There are bigger fish to fry, and there are bigger problems in the world.
She continued,
I love her and I want the best for her, and I think she's a fantastic songwriter. I think that if we both, her and I, can be representatives of strong women that come together despite their differences, I think the whole world is going to go, like, 'Yeah, we can do this.'
To further cement the fact that she wants this fight with Swift to be over and done with, during a live performance of her single "Swish Swish," Perry changed some of the lyrics to seemingly send a message to Swift.
Like we said before, most fans believe "Swish Swish" is a response to Swift's "Bad Blood," which is widely believed to be about her beef with Perry. The official lyrics in "Swish Swish" read,
A tiger Don't lose no sleep Don't need opinions From a shellfish or a sheep Don't you come for me
During this one performance, however, Perry reportedly swapped the "Don't you come for me" line with "God bless you on your journey, oh baby girl."
So yes, it's pretty plain to see that Katy Perry is ready to call it quits on this fight with Taylor Swift. But is Taylor?