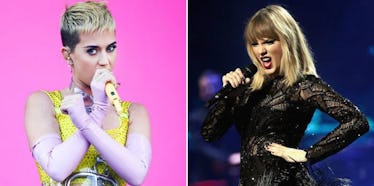 Katy Perry's Ready To End Feud With Taylor Swift: "There Are Bigger Fish To Fry"
Rich Fury/Getty Images/Kevin Winter/Getty Images for DIRECTV
The beef between Katy Perry and Taylor Swift has been pretty juicy for quite some time.
Throughout the ordeal, fans were treated to hits like Swift's "Bad Blood" and Perry's newly released "Swish Swish," which she claims is "a great anthem for people to use whenever someone's trying to hold you down or bully you." (So I'll just go ahead and assume she's probably referring to Swifty.)
Tensions were high just as recently as this week when Perry released her new album, Witness. Surprise, Ms. Perry! Your release day just happens to coincide with the day Swift decided to re-release her entire discography on Spotify, though she claimed for a number of years that Spotify didn't pay artists what they deserved.
I'm going to need some sunglasses for all that shade.
But it seems Perry is willing to put the feud behind her. According to Rolling Stone, the 32-year-old pop star said, "I'm ready to let it go. Absolutely, 100 percent."
Woah, woah, woah. Back up.
In conversation with Ariana Huffington, during Perry's weekend-long livestream following the release of her "purposeful pop" album, she said, "I forgive [Swift], and I'm sorry for anything I ever did, and I hope the same from her, and I think it's actually... I think it's time."
The beef might really be coming to an end.
Perry continued, "There are bigger fish to fry, and there are bigger problems in the world."
This weekend, Perry decided to let fans in on her struggles during her livestream. In hopes to lead a more genuine life, Perry put everything on display — the struggle between her true self and her alter ego pop star persona, substance abuse, and past suicidal thoughts.
"I feel ashamed that I would have those thoughts, feel that low and that depressed," Perry admitted.
Folks, this might be the turning point.
Swifty, I think it's your move.