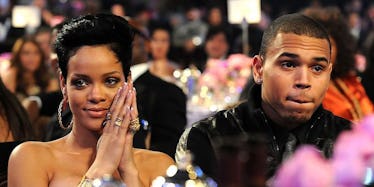 Chris Brown Shares Details On Abusive Relationship With Rihanna: "It Never Was OK"
Rick Diamond/Getty Images
In February 2009, Chris Brown was charged for assaulting Rihanna in his Lamborghini, leaving her bruised, bleeding and alone... and her fans turned their backs on Brown. Now, Chris Brown has opened up about the incident in a new documentary, Chris Brown: Welcome to My Life, and the singer isn't holding back on the details. On Aug. 14, 2017, a clip of Brown was posted to a fan's Facebook page. In it, Brown discusses his love affair with Rihanna and their serious relationship issues. He also admits that he cheated on Rihanna, which led to the downfall of their once loving relationship. The details about Chris Brown and Rihanna's abusive relationship are intense, to say the least. Elite Daily reached out to Rihanna's team for comment on Brown's documentary clip, but did not hear back by time of publication.
Brown says he and Rihanna tried to fix their damaged relationship, but regrettably failed.
There was always a point where we'd talk about it like, 'What the f*ck are we doing?' Like, 'I don't like you slapping me.' If I go on stage I got a scratch on my face and I gotta explain it like, 'Oh, no I fell.' If you got a scar or a bruise you gotta put makeup on. I'm not ever trying to put my hands on any female.
Although Brown claims there was mutual abuse, he said he "felt like a f*cking monster."
Brown shares his account on the assault. He claims Rihanna saw a text message from another woman and started hitting him.
He claimed,
I remember she tried to kick me, but then I really hit her, with a closed fist, I punched her. I busted her lip. When I saw it, I was in shock. I was like, 'F*ck, why the hell did I hit her?' From there she just spit in my face, spit blood in my face and it enraged me even more.
In an interview with Vanity Fair from 2015, Rihanna shared her thoughts on Brown and the incident. She remarked,
If you put up with it, maybe you are agreeing that you [deserve] this, and that's when I finally had to say, 'Uh-oh, I was stupid thinking I was built for this.' Sometimes you just have to walk away.
Rihanna walked away and never looked back.