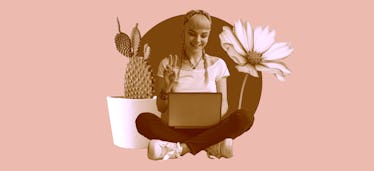 If You Want To Feel Confident & Sexy On A FaceTime Date, Try This
Shanelle Infante, Elite Daily
If you're looking for love in quarantine, virtual dating is the safest strategy. But even though FaceTime and Zoom are useful, meeting someone online is just as nerve-wracking as meeting them IRL. What if it's awkward? What if you don't like them? What if you have something stuck in your teeth and you don't notice until you're face-to-face with the frontward-facing camera?! Take a breath, and don't panic. There are several ways to feel sexy on a FaceTime date and ensure your bad b*tch energy oozes through the screen.
A wonderful way to harness this energy is to pamper yourself before your date. "If you want to feel great for a date, spend the day making sure that you prioritize your self-care," confidence coach Trish Blackwell previously told Elite Daily. And don't be afraid to gas yourself up, whatever that looks like for you. "It's OK to be nervous. Translate your nerves as excitement, and you'll give yourself a confidence advantage," Blackwell added.
Here are seven concrete ways to feel self-assured and sexy before a FaceTime date. (And they're all free and fun.) Just remember: Your date is so lucky to be talking to you tonight, and they're probably just as nervous as you are.