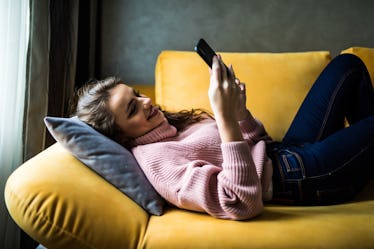 Try These 7 Expert-Approved Tips For More Romantic FaceTime Dates
Shutterstock
Long-distance romance has come a long way. Less than 20 years ago, the best way to bond with your boo from a distance was to call them — but now you have texting, IG, TikTok, and video chat apps to stay connected. Whether you're in a long-distance relationship, you or your SO travel for work frequently, or you like to vet dating app matches before meeting up IRL, knowing how to plan a killer FaceTime date can definitely come in handy. That's where these FaceTime date tips come in.
According to Fran Greene, a dating and relationship coach and author of The Secret Rules of Flirting, about 90% of communication is nonverbal — which is why she says video chatting is the next best thing to hanging with your partner in person. When you video chat with your date, their facial expressions, posture and gestures provide insightful cues to make your conversations even more meaningful and intimate.
"Video chatting is an excellent resource to help connect with someone emotionally and physically, even though you're not together IRL, through body language, adds Maria Avgitidis, CEO of matchmaking service Agape Match,
Avgitidis also adds that you can learn a lot about someone in their own environment through video chat, which is especially valuable in the beginning stages of dating someone new.
Not all FaceTime dates are created equal, however. The key to making your video encounter feel more romantic is to treat it like a real date — and fortunately, experts have some game-changing guidance on how to do just that.