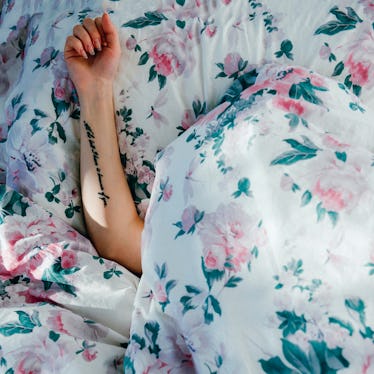 6 Essential Oils For The Bedroom That'll Set The Mood For Both Romance & A Restful Sleep
Even if you freaking love sex, sometimes getting in the mood can be a bit of a challenge, especially when the daily grind is zapping your mental and emotional energy reserves. I know for me, at the end of the day, sometimes it takes all I've got just to watch Riverdale or read a book, let alone actually feel ready to roll around between the sheets. My advice? Consider tapping into the wide world of essential oils for the bedroom to boost your sex drive and enhance those relaxing, feel-good vibes. Whether you're due for a solo session, or you and your partner simply want to set the stage for an extra special night, these oils can definitely add to (and potentially even induce) your arousal, while benefitting your shut-eye at the same damn time.
As for a little background on how all this might actually work, an essential oil is a mixture of the chemicals, or "essential" compounds, of a plant with a carrier oil, extracted by a process of distillation. Each type of oil is believed to have unique benefits, depending on what plant it was extracted from. Essential oils are often used for things like aromatherapy through massage, or even by just dabbing the product onto the skin. They can also be used in baths, or you can diffuse them throughout your room, or even your entire home. The fragrances of the oils stimulate the olfactory system, which is the part of the brain connected to your sense of smell.
And while essential oils seem to be having a moment right now, they are by no means a new thing. Apparently there's record of Egyptians using aromatic oils for their healing properties as early as 4500 B.C. — and that includes being used for sexy bedroom adventures, too. Seems like they were onto something, no? Try one of these six essential oils for yourself to see what it's all about.