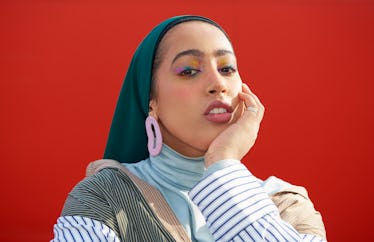 7 Self-Care Routines That Build Confidence Before A First Date
The hard part is over — you flirted, texted, and, most importantly, you finally agreed on a place with a good happy hour. Now you just need to pick out an outfit, do your hair, and manage to get to the bar at a reasonable time, without hyperventilating on the subway ride over. No biggie! If you're looking for a little pre-hang pick-me-up, these seven self-care routines to try before a first date will help you totally crush it with your crush.
While first date jitters may seem inevitable, confidence coach and founder of the College of Confidence, Trish Blackwell, shares that giving yourself some lovin' before going out helps you settle your nerves and collect your thoughts. "If you want to feel great for a date, spend the day making sure that you prioritize your self-care," Blackwell tells Elite Daily. "It's OK to be nervous. Translate your nerves as 'excitement,' and you'll give yourself a confidence advantage."
From dancing in the shower to calling your bestie, there are tons of ways to pump yourself up before a big date. And if you're looking for some extra inspiration, here are seven ways to give yourself some TLC before a first date.