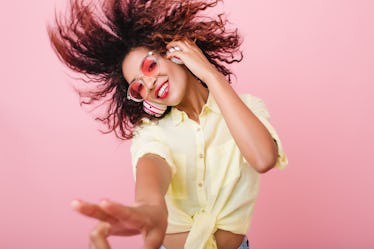 How To Exude Confidence On Dates, According To A Confidence Coach
Shutterstock
"Is this outfit even cute? Do I mention that I found their sister's Insta and I know that she just had twins? Wait, who is going to pay? Do I offer to pay? What if the place is cash only? Should I Google if the place is cash only? If the place is cash only, are heels too much?" If your pre-date inner monologue runs longer than a Shakespearean drama, you may be wondering how to exude confidence on dates. Everybody knows that dating can be totally nerve-racking. And sometimes, you gotta act like you own the place (to make yourself feel comfortable leaving your house for the place).
"Confidence is imperative because it helps you find partners who are good fits for you, not for someone you are pretending to be or they are hoping you are," Trish Blackwell, confidence coach and founder of the College of Confidence tells Elite Daily. "Confidence gives you an attractive edge, which is always helpful in dating because it means that you know who you are and what you want."
If you're trying to exude confidence on your next date, Blackwell breaks down how to put some pep in your dating step.