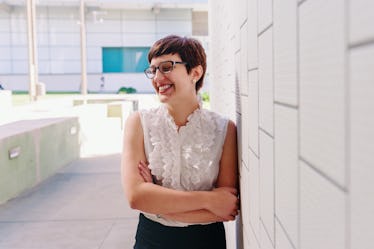 These 5 Tricks Will Give You A Quick Boost Of Confidence When You Need It Most
To be a person with bulletproof self-esteem is pretty rare, if not downright impossible. But a real crisis of confidence can often come at the exact wrong time. Maybe you're in the midst of a doubt spiral about advancing your career right before a presentation, or you simply aren't feeling good in your own skin after spending way too much time on Instagram before a date. When you're in too deep like that, it can feel impossible to lift out of that downward spiral, so having a few tricks to boost your confidence when you really need it can be super helpful at turning around an internal mini-crisis.
Listen, if you feel a little raw in the self-esteem department from time to time, I get it — oh, girl, do I get it, as do many other women: In a KPMG study on women's leadership roles, 67 percent of women surveyed said they "need more support building confidence" to help them feel like they're able to be leaders in the workplace. What's more, the 2016 Dove Global Beauty and Confidence Report found that women's self-esteem is, in general, "on a steady decline," on a global scale.
It's best to think of building your confidence and self-esteem as something that's a constant work in progress — not because it's something you'll never "achieve," but because it means you're always prioritizing the idea of giving yourself that space, time, and compassion to do so, throughout your whole life.
The good news is, once you get in the habit of picking yourself up when you're down, it starts to get easier — trust me. Here are a few expert-recommended tricks to help you feel more confident when you need that boost the most.