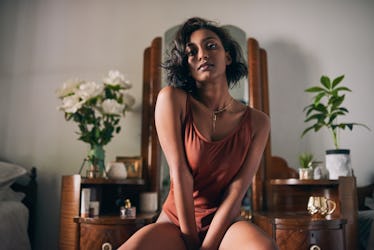 10 Ways To Feel Sexy While Stuck At Home During Quarantine
Adene Sanchez/E+/Getty Images
Getting yourself to feel like a hot, desirable baddie during the coronavirus pandemic can be difficult when you're wearing sweatpants and stressing out about the state of the world 24/7, but it's not impossible. There are plenty of ways to feel sexy at home during quarantine, many of which cost approximately zero dollars. All you need is time, creativity, and patience. As much as not feeling your best sucks, take comfort in knowing you're far from alone. Thanks to sky-rocketing stress levels and anxiety triggered by the pandemic, quarantine has lowered sex drives across the board.
In an April 2020 survey by sex toy company Lora DiCarlo, 42% of respondents said they've felt "stressed" or "anxious" during the pandemic, whereas only 18% of respondents said they've felt "sexy" or "aroused." While 42% of people surveyed said their masturbation frequency hadn't changed since the start of the pandemic, 35% of respondents (and 40% of the women surveyed) said they'd been masturbating less. The reasons for this decline? Fifty-one percent cited not feeling sexy or horny, 42% cited too many people in their house, and 32% cited straight-up feeling way too anxious.
If any of these experiences sound like yours, check out the following tips to feel sexier and more empowered in your body during quarantine.