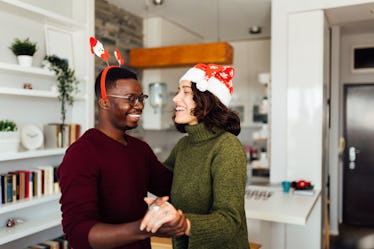 These TikTok Christmas Songs Will Deck Your Dances With Holly
Brothers91/E+/Getty Images
Sleigh bells are jingling all over TikTok, and you can hear them with each new video of someone dancing, making holiday decor, or sharing a wishlist. Your "For You" page is probably covered with this festive content that inspires you to make your own video at home. Whether you're wrapping gifts, baking cookies for your BFFs, or getting your groove on, these TikTok Christmas songs 2020 will deck your dances with holly.
After all, as Buddy the Elf has taught us, the best way to spread cheer is by "singing loud for all to hear." When you post a video with one of these songs, you're basically singing classics like "Here Comes Santa Clause" to the world and getting other people in the spirit of the season. From the other side of the screen, fellow TikTok users may watch your video and be inspired to dance along to the beat or belt out the lyrics they've forever known and loved.
Most of these Christmas songs on TikTok are remixes of classics, so they're easy to pick up on even when combined with songs that went viral on the app earlier in the year. Other tunes are audio clips from "All I Want for Christmas Is You" by Mariah Carey or the intro of "It's Beginning to Look a Lot Like Christmas" by Perry Como and The Fontane Sisters. Pick one of these TikTok Christmas songs to deck all of your dances with holly this year.