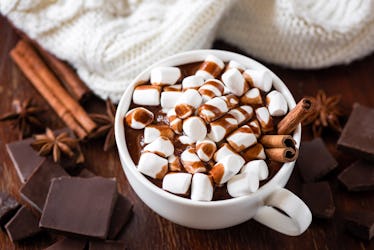 Hot Chocolate Charcuterie Boards Exist & Your Insta Is About To Get So Festive
Vladislav Nosick / 500px/500Px Plus/Getty Images
Believe it or not, your charcuterie board can change with the seasons. In the fall, you can add tomato chutney or slices of an apple to it. When the winter temperatures come around, you can give your board a theme like hot chocolate, and dress it up with holiday mugs, dark chocolate bits, or cinnamon sticks. These hot chocolate charcuterie board ideas will show you how to run with that theme and create the yummiest IG posts yet.
Let's be honest: You do love snacking away at the items you put on your charcuterie boards, especially during a virtual happy hour with your best friends. But, you also love taking photos of your charcuterie spread and getting close-up shots of the meats, cheeses, crackers, and grapes you've neatly laid out on a cutting board. Usually, at least one of your followers leaves a comment on your post like, "This looks like something from Pinterest!" or, "Please teach me your charcuterie board ways." Without even trying, you have established yourself as the charcuterie queen, and now you're looking for ways to get creative before winter happy hours commence.
Look no further than these hot chocolate charcuterie board ideas that'll add some yummy posts to your IG feed. Each will coach you on the very best ingredients and items to purchase, to lay out of the cozy spread of your dreams.
We only include products that have been independently selected by Elite Daily's editorial team. However, we may receive a portion of sales if you purchase a product through a link in this article.