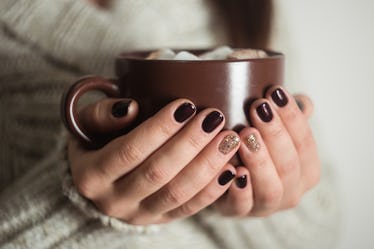 7 Amazing Hot Chocolate Recipes That Will Keep Every Sweet Tooth Cozy This Fall
olllinka2/Fotolia
With the colder months fast approaching, you should be prepared to cozy up any way you can. This means it's time to unpack the sweaters and break out the Uggs from the back of the closet. It's also time to brush up on some delicious hot chocolate recipes to warm and impress you and your guests on chilly nights.
Mostly everyone has some kind of fond memory involving hot chocolate, so there's already a pretty high standard when it comes to your drink of choice. Especially when it's time to wow that cutie from work with your drink making skills, no ordinary hot cocoa will do. Your beverage needs to have something special to make it stand out from all the mediocre hot chocolates out there in the world.
Even if you don't have your own Food Network show, you can learn a few tips and tricks to making the perfect hot cocoa. Whatever your secret ingredient may be, it'll be a lot more special than the watery chocolate mix you can buy at the grocery store. There's a recipe for every mood, too, so you're definitely covered whether you're looking for something sweet, spicy, or even boozy. Your drink is sure to be a hit at this year's holiday parties, that's for sure.
Here are some super creative, easy to follow tutorials for making your own signature hot cocoa. A quick online browse will give you even more options if you need them, but these videos seem to have most of it covered. Just make sure you don't drink it all yourself (actually, who's going to stop you?).
1. Double Thick Hot Chocolate
If you prefer your hot cocoa thick and smooth, check out this recipe. Dark chocolate goes into this decadent mix, so you know you're getting the best flavor possible. If a recipe could be considered cozy, this one definitely fits the bill.
2. Parisian Hot Chocolate
Parisian hot chocolate is a thicker type of hot cocoa that may or may not be accompanied by food. According to this tutorial, you can use it to dip breads and sweets into, like a fondue, or you can enjoy it by itself. It's the best of both worlds.
3. Nutella Hot Chocolate
If you love that sweet Nutella taste, this is definitely the drink for you. There's just enough hazelnut to separate this hot cocoa from others, but it's still the classic drink you know and love. You probably have all of the ingredients in your kitchen already, so what are you waiting for?
4. White Hot Chocolate
This delicious take on the classic is special for a few reasons. It's different, but not so different that it doesn't taste like hot cocoa. It can be made to your preferred level of sweetness as well. Best of all? This recipe uses only three ingredients.
5. Matcha Hot Chocolate
If you're adventurous, this hot cocoa twist may be for you. This drink is a fairly simple blend of matcha and hot chocolate, so it's not as hard to make as it is to gather the courage to try it. If you're a hot cocoa purist, you may decide to stick to a classic recipe, because this concoction is not anything like the chocolatey goodness you know and love... but it is downright delicious.
6. S'more Hot Chocolate
If you're feeling rather decadent, it's not a bad idea to give this recipe a try. This particular drink takes advantage of more ingredients than most, so you may have to make a trip to the grocery store beforehand. I promise, it will be worth it.
7. Ginger Snap Hot Chocolate
If you're looking for a kick, this hot cocoa's got it. The ginger adds just enough spice and heat to the sweetness of the chocolate to balance it out, so your mouth won't be on fire. This recipe is super simple, but tastes like it came right out of a gourmet kitchen.
Check out the entire Gen Why series and othervideos on Facebook and the Bustle app across Apple TV, Roku, and Amazon FireTV.