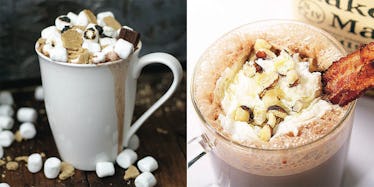 25 Boozy Hot Chocolate Recipes That Will Keep You Warm All Winter (Photos)
She Knows/Serious Eats
There are not many things in life that can compare to sipping on a mug of hot chocolate on a cold winter day.
This winter staple always brings back sweet memories of sitting by the fireplace after spending hours playing in the snow.
When it comes to kicking your cocoa up a notch, some people prefer to top their hot chocolate with things like whipped cream or marshmallows.
But if you ask me, the best thing to add to your hot chocolate is booze.
Lots and lots of booze.
Because let's face it, nothing helps you beat those winter blues like a delicious hot-chocolate-induced blackout.
From spiked caramel cocoa and wavy white hot chocolate to boozy chocolate raspberry renditions, there are all sorts of things you can add to your sweater weather sips.
So if you're looking for some creative ways to get lit off the co-coa, you'll be glad to know we found a bunch of spiked hot chocolate recipes that will let your turn up with your favorite treat all winter long.
Take a look at the pictures below to see 25 badass boozy hot chocolate recipes.
Boozy Raspberry Hot Chocolate
Boozy Orange Hot Chocolate
Black Cherry Bourbon Hot Chocolate
Red Wine Hot Chocolate
Boozy Pumpkin White Hot Chocolate
Hot Choc-Colada
Hot Chocolate del Diablo
Boozy White Hot Chocolate
Boozy Bourbon Hot Chocolate with Vanilla Bean Whipped Cream
Naughty Nice Hot Cocoa with Spiked Eggnog Marshmallows
Boozy Birthday Cake Hot Cocoa
Grown Up Hot Chocolate
Spiked Peppermint Hot Cocoa
Nutella Frangelico Hot Cocoa
Boozy Red Velvet Hot Chocolate
Broiled Baileys Hot Chocolate.
Spiked S'mores Hot Chocolate
Mocha Mudslide Hot Chocolate
Spiked Salted Caramel Hot Chocolate
Kahlua Hot Cocoa
Peppermint Hot Chata
Bacon, Bourbon and Hazelnut Hot Chocolate
Boozy Gingerbread Hot Chocolate
Cinnamon Roll Hot Chocolate Toddy
Spiked Skinny Hot Chocolate