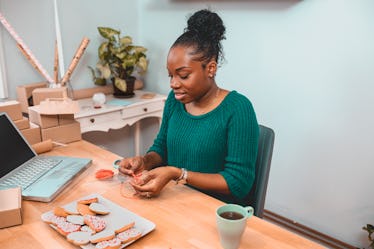 These TikTok Thriftmas Videos Have DIY Gift Ideas For Every Last-Minute Shopper
Sladic/E+/Getty Images
2020 has been the year of getting crafty at home. In fact, during quarantine, you may have spent many months repurposing items that were tucked into closets for gifts, decor, or loungewear looks. Now, these TikTok thriftmas videos are here to show you how to put together the cutest last-minute presents and get your DIY on.
The best part? They don't even require you going to the store to pick up extra supplies like paint, wood, or brushes. Instead, they're encouraging you to repurpose items such as empty paper towel rolls, yarn, and old books to create something merry and bright. Some of these handmade items will require a bit of time to make, which is important to note. However, with a little bit of Christmas music and the aroma of a holiday candle, these TikTok thriftmas DIY projects will actually make for a really festive afternoon. (You may even decide to post your craft on TikTok using the "duet" feature.)
To get started, you can either download the TikTok app and search for a fun craft under the hashtag #thriftmas. Or, you can peruse the videos we've collected for some major gift creating inspo. Christmas is quickly approaching, so we've found all the cutest DIY gift ideas on TikTok for you to recreate. They'll be so affordable and easy to put together.