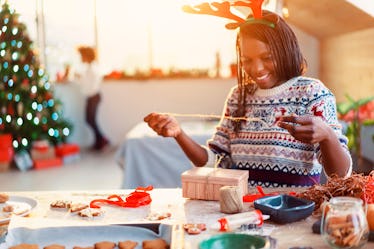 10 TikTok Gift-Wrapping Hacks Yule Be So Thankful For This Holiday Season
SrdjanPav/E+/Getty Images
It's that time of the year again to bust out your leftover wrapping paper from the year before, gather all your ribbons and bows, and sit down with some hot cocoa to get wrapping. Whether you're a pro at packaging presents or hopelessly folding corners over themselves to cover your gift, these TikTok gift wrapping hacks are here to make this year's gifting look like it came straight out of Santa's workshop.
You're so excited to see the look on your loved ones' faces when they finally unveil the gifts you thoughtfully chose. But, you want to make sure the outside looks just as good as what's underneath. Fret not, your presents can look so Insta-worthy under the tree with a few of these gift wrapping hacks on TikTok. You can opt for a classy minimalist design on your gifting to match your elegant Christmas tree, using TikTok folding techniques to make your wrapping stay tidy and neat. Or, you can create an incredible snow-stopping gift with a bow-making hack. Have an irregularly shaped gift? Don't gift up! TikTok has you covered there as well.
Wrapping gifts isn't always easy, but with these TikTok gift wrapping hacks, your loved ones will almost want to keep your presents as is, because they look that good.