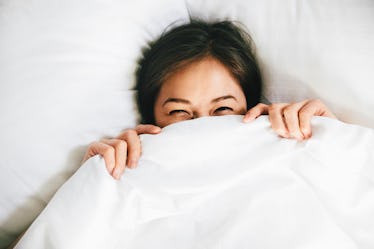 7 Lazy Sex Hacks That Make Hooking Up Way Hotter, No Effort Required
Sex is great and all, but have you ever been so exhausted that you fall asleep without trying and end up taking the most amazing nap? If you're the kind of person who likes to put in minimal effort and still achieve maximum results, then you'll love these seven sex hacks for lazy people. They require almost no work on your end, yet they'll make hooking up feel totally seamless.
Let's be real, having sex in real life is never as simple as it is in romantic comedies and HBO shows. Off-screen, you've got hair in your face, condom wrappers stuck to your butt, embarrassingly loud headboards, and more minor inconveniences that always seem to get in the way when you're just trying to enjoy yourself.
Sometimes, being lazy isn't a bad thing. You work hard during the day, and when you finally get to be in your bed, you just want to relax. Even when you're having sex, you shouldn't have to put in unnecessary effort. That's where this list comes in.
These seven simple, but effective hacks will set you up for success in the bedroom without you even having to try. OK, you might have to lift a finger (or two) at the beginning, but once you put these strategies into practice, you'll be amazed by the flawless results.