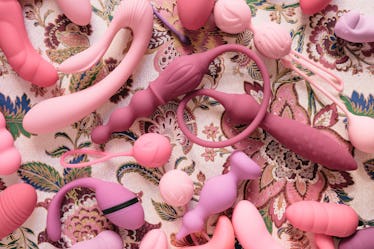 How To Clean Your Sex Toys, Because It's Straight-Up Nasty if You Don't Do It Right
If your knowledge of sex toy care and cleaning is limited to the episode of Broad City where Abbi puts Jeremy's expensive dildo in the dishwasher and ends up melting the plastic, I don't blame you. It's not uncommon to think that running your vibrator under warm water once a week counts as cleaning it, or to assume that all sex toys should be stored the same way. Whether you use toys regularly or you're just getting started, a lesson on how to clean sex toys can't hurt — but a UTI can.
Sex toys are an investment. They're often pricey items that you don't want to have to replace just because you messed up. If you damage the toy, either by cleaning it wrong or not cleaning it enough, you're going to have to get a new one. Wouldn't you rather expand your collection, instead of having to replace the same toy?
More than that, though, if you don't clean your toys between uses, you're increasing the risk of an infection. Bacteria build up can lead to health issues that would really suck.
The first step is always to read the information that comes with your toy, so you know what material it's made out of, whether or not you should put it in the dishwasher, if it has a motor that shouldn't get wet, and so on. After that, it's on you to keep it clean. You have to wash your toys after each use. I repeat, bacteria build up will occur if you don't clean your sex toys every. Single. Time. Here's how to do it right, because you don't want to end up in Abbi's situation, or worse, with a yeast infection.
Using Soap And Warm Water
Much of the time, a mild, unscented antibacterial soap and warm water will effectively clean your toys. Be sure to rinse well, because you don't want any soap residue. If you store your toys correctly, you shouldn't need to clean them again before using them. If your toy is porous (check the package, or the Internet if you threw the box out), that means it's more sensitive to temperature and prone to warping. These kinds of toys, which include hard plastic and jelly rubber, should only be cleaned using soap and water, either in the sink or using a washcloth.
Wiping Down With A Clean Washcloth
If your toy includes batteries, a plug, or really buzzes in any way, you should not submerge it in water. Thoroughly wipe it down with a clean, warm, soapy washcloth for best results.
Using Sex Toy Cleaner
Pipedream Sex Toy Cleaner (8-Ounce), $6, Amazon
Sex toy cleaner is another option. It is basically as effective as soap and water, but it can feel more convenient. Many come in a spray form, so you can spray your toy down, wipe it dry, and be done.
Putting Toys In The Dishwasher
Nonporous toys have surfaces that can't be penetrated by bacteria. Materials like silicone, pyrex, and stainless steel are nonporous, so they can all be put in the top rack of your dishwasher, as long as they don't have a motor or batteries that you can't remove. You can also place these toys in boiling water for ten minutes to disinfect them. Glass is also nonporous, but should not be exposed to the extreme temperatures of the dishwasher, as it could warp.
Drying And Storing Your Toys
It's important that your toy is totally dry, so it doesn't accumulate mildew. Then, store it in a dry and relatively cool place. You can use a cloth bag, a special box made just for sex toys, or try the UVee, which sanitizes and stores your toys. The UVee uses UV-C light to kills harmful bacteria and germs in just five to 10 minutes. It also has charging capabilities and a lock.
As with any aspect of sex, cleanliness will make for a safer and more pleasurable experience. Don't skip cleaning your toys after you use them, and be sure to read the packaging so you know you're treating your toys as well as they treat you.