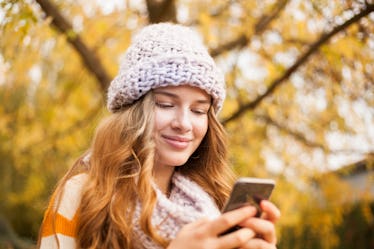 7 Simple Self-Care Practices To Try If You Use Dating Apps
Shutterstock
Dating apps can serve as super valuable tools for finding love, and the special sauce is in the countless success stories. That said, they can also be downright draining, which is where self-care comes in. There are a slew of self-care practices for dating app users that can help you to stay positive, focused, and enthusiastic throughout all your swiping.
Self-care has certainly become a buzzy term in recent years, but what exactly does it entail? Does it mean slapping on a sheet mask or booking a massage, and calling it a day? According to The Oxford Dictionary, self-care is defined as "the practice of taking an active role in protecting one's own well-being and happiness, in particular during periods of stress." Between setting up your profile for success, trying to vet matches based on little information, keeping multiple conversations going, and dealing with some inevitable rejection, it's safe to say that using dating apps can be a tad stressful at times. The key to managing that stress and maintaining a healthy mindset throughout is making self-care a priority. By taking time to manage your physical, mental, and emotional well-being, you'll exude more self-confidence and energy on those dates, which could have a significant impact on your ability to attract the right person for you.
So, regardless of when, how, or why you're using dating apps, make it a point to adopt these self-care practices while swiping away to minimize stress while simultaneously boosting your success.