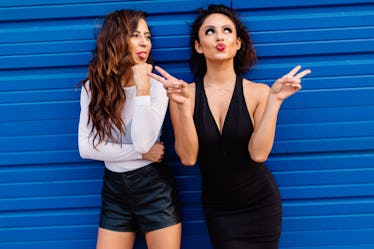 Experts Want You To Know These 3 Things About Making A Dating App Profile
Creating your profile on a dating app isn't easy. But why should it be? After all, you're attempting to accurately convey your physical appearance, stellar personality, likes, dislikes, desires, dealbreakers, and much more through just a few select photos and a limited number of characters. So, when it comes to tips for making a dating app profile, you'll likely take as many tricks of the trade as you can get. The truth is, though, you don't need a long list with a dozen dos and don'ts in order to create the perfect profile and start getting great matches.
I spoke to three different dating app experts about their top tips for making a dating app profile. Each one gave their best piece of advice on how to capture all of the aspects I mentioned above, and send the right message to potential connections. When it comes down to it, there are really only three simple steps you need to take to build a profile that will get you noticed. There are a lot of fish in the sea, but you're not just any fish. By taking these three hints to heart, you'll stand out from the rest of the crowd — in the best and most refreshing way.