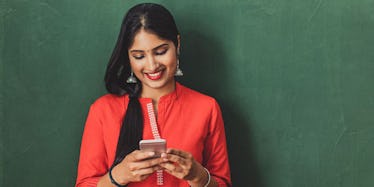 5 Things To Avoid In Order To Get More Matches & Better Conversations On Tinder
There's no doubt that there are plenty of people on Tinder swiping all the time. In fact, 26 million Tinder matches are made every day. If you are looking for something to transition from online to IRL, there are plenty of ways to optimize your chances of those matches happening for you, too. And there are definitely things not to do on Tinder to make sure you're getting the matches, conversations, and IRL dates that you want.
I myself have made plenty of Tinder "mistakes" before. For one, I don't like having push notifications on too many apps, so sometimes days pass before I remember to check dating apps for messages or new matches. Sometimes that earns sassy messages from other people about my drawn-out response time. Fair enough, I guess, but sometimes this is a good way to weed out nagging people, as well. The same can be said for the following: these are all suggestions on increasing your matches, having better conversations, and advice to lead to real-life dates. But, as always, go with what feels right for you. Here are some of the things you shouldn't do on Tinder, based on statistics from a representative at the dating app.