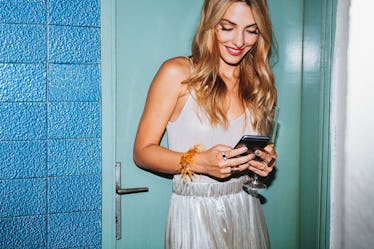 5 Ways To Have Better Conversations On Tinder, According To Science
When I was single and asking my happily coupled-up friends for advice, some of them would simply shake their heads and say, "It's all about luck." Or even more maddeningly, "You'll meet someone when you stop trying." But I was bored, lonely, and needed someone to help me meet the delivery minimum at my favorite Thai takeout place. I didn't want useless platitudes; I wanted to meet someone. I craved tips about how to talk to people on Tinder and how to turn those conversations into actual dates in the real world.
So I quit my job and joined Elite Daily's Dating team so I could get insider access to dating app stats. (I mean, OK, sure, I took this job to fulfill my passion and advance my career, but also... insider access to dating app stats. Just saying!)
But for realsies, Tinder has studied exactly how its users swipe and interact, and the resulting data is pretty useful. Consider the stats below as a roadmap to a better dating app experience. Just keep in mind that there's no one "right" way to date. Before you dive into the numbers, remember that the most important thing you can do on a dating app is be yourself. The stats below might be helpful, but you don't need to let them influence how you use dating apps unless that feels right for you.