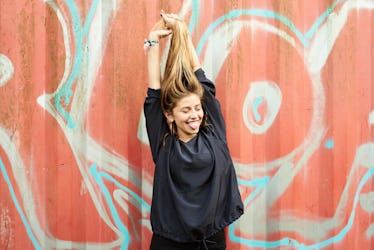 Your Optimistic Personality Benefits Your Health In 3 Major Ways, According To Science
I recently went through a collection of journals I'd kept over the years, and to say the material I'd penned as a teen was entertaining would be an understatement. But when I read different entries aloud to my mom, "entertaining" wasn't exactly the word she used to describe them. "Have you ever realized you always fixate on the negative?" she asked me, and I paused. Do I? "Even now, you always focus on every little negative thing that happens to you, even if it's a good day," she continued. Knowing optimism can be good for your health, and negative thinking can, well, fudge up a few things, I took it upon myself to revisit these diaries again, and I even asked my husband if he'd noticed this consistently negative behavior in my personality as well. The consensus was unanimous: I am a Negative Nancy, and according to a new paper published in the Journal of the American College of Cardiology (JACC), I better turn my frown upside down because, if I don't, my overall well-being could suffer as a result.
Look, I'm sure by now you've heard a whole lot more than you might care to about the powers of positive thinking and that, if you consciously make the effort to shift a negative mindset to a positive one, it can make all the difference in your world. It might sound like a bunch of hocus-pocus when you're in the thick of a rotten day, but science is now claiming that positive thinking can improve your health both physically, as well as mentally. So maybe the next time coffee leaks all over your white blouse, you forget to turn in a homework assignment, or wake up on the wrong side of the bed, instead of honing in on those bad vibes, you might want to try your best to grin, bear it, and, in a sense, fake it until you feel it.
I know myself, and when I give in to salty moods, all I want to do is sulk and roll around in a negative puddle like a piglet in a pile of mud. It's in this particular state of mind that I'm likely to forgo my fitness routine, indulge in all the comfort food, and, like a domino effect, allow one thing that's stressing me out to cause a whole bunch of other things to also give me anxiety. But don't leave me out to dry here; you know damn well there have been times in your life where one thing went wrong, then another, and another, and another. The truth is, negativity spreads like the plague, and the more you feel it emotionally, the more likely you'll start to feel its physical effects, too.
"Adopting positive changes in your outlook on life and choosing to be optimistic can result in tangible improvements in your heart health," says Robert Glatter, M.D., an assistant professor of emergency medicine at Lenox Hill Hospital, Northwell Health (who was not involved in the JACC research). Thinking happy thoughts on the reg, according to both Glatter and the results of this new research, can, over time, translate to more tangible benefits like a healthier diet, a regular workout routine, and even better sleep, which will then lead to regulated blood pressure and cholesterol, Glatter explains. "All of these behaviors are linked to improved mental health as well," he tells Elite Daily, "leading to less anxiety and depression over the long-term."
In the JACC review, researchers analyzed several past studies on the effects of positive thinking and found that an optimistic outlook can often lead a person to be more inclined to follow a healthy diet plan, exercise regularly, and consciously work to keep their stress levels low. In other words, your psychological well-being plays a huge role in how you feel physically. Here are the three major ways optimism affects your physical health, as well as a few tips for how you can feel your best in both your mind and your body.