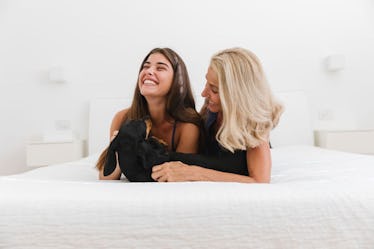 7 Things To Do For Your Parents When You're Living Away From Home For The First Time
Little things go a long way. When you were a kid, getting the red popsicle instead of the blue one set the tone for your entire day. And now that you're a grown-up, not much has changed. You appreciate when the barista remembers your order, or somebody holds the elevator door for you. Now, think about little things to do for your parents when you're living away from home for the first time. Returning the favor is always a good idea.
Those memes are totally right: What do you get your parents when you're low-key broke, but they deserve an entire private island to themselves? You wish you could send them on a tropical cruise or buy them everything they've ever wanted. That would require a lot of cash that you don't quite have, though. (Ugh, what gives?)
You pace around your room in your new apartment, trying to come up with clever ways to show them that you truly care. Maybe you could name a star after them, or a section of the highway? That doesn't feel quite right. *Continues to ponder while grabbing a snack.* Then you have a lightbulb moment and realize that the best things to do for your parents are meaningful, and not made of money.
You get to work right away on a cute piece of artwork for their house, or call them up just to check in. These seven little things are just like that — simple, but thoughtful for when you just moved out of the house.