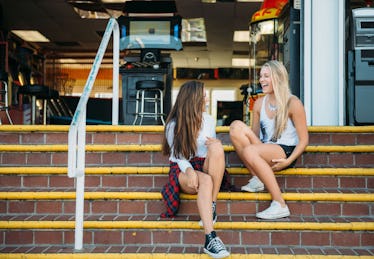 The 8 Types Of Friends You'll Make Your First Semester Of College
Going to college is life-changing. You're expanding your horizons and possibly getting outside of your comfort zone. You're learning to live on your own, and making new friends along the way. When you graduate, you don't just walk out with a diploma, but a lifetime of memories. This entire adventure starts the day you decide on a school, and seemingly never ends. The people you meet aren't just around for four years. I'm here to give you the scoop on the types of friends you make your first semester of college — the friends who might just be around forever.
You want to know exactly what to expect, right? College can come with a lot of question marks, so it's nice to have some answers. Going into your first semester, you're trying to figure out your major and the best route to the art building. Don't worry: Plenty of people have been in your shoes before, and the best is always yet to come.
After a little bit of exploring, you'll know your way around campus and have met people that share the same passions as you. You'll befriended a girl in your class after passing her the syllabus, and go to dinner with the girls in your dorm. You'll be ready to rock 'n roll into the next adventure in no time — ice cream socials, midterms week, or studying abroad. Oh yes, these few years are going to be sweet, but mostly because of the friends you meet.