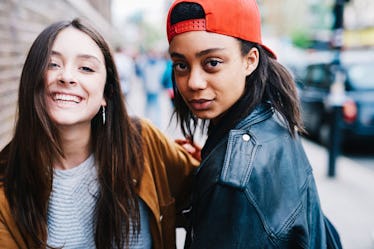 8 Sweet Things To Do For Your Roomie When You're Sharing A Space For The First Time
When was the last time you did something for someone else, just 'cause? You didn't have any particular rhyme or reason — but you picked up your best friend's favorite snack at the grocery store, or bought her a cute sweater that was on sale because you knew she'd like it. You wrapped it up and gave it to her that afternoon, and she squealed with excitement. At the end of the day, she surprised you with French fries or a pair of fuzzy socks that was by the register, too. Now, there are more than a few sweet things to do for your roommate that'll make sharing a space for the first time such a special experience. Friendship and so much happiness are right around the corner.
First thing's first: Let's talk about living with someone else, because it's a pretty cool experience. You get to share an apartment or a house with one of your best friends, or somebody else who goes to your school. And more often than not, you end up being bonded for life.
You two laugh over boxes of pizza, and have dance parties at midnight when you're both wide awake. Sure, you might get into arguments every once in a while, but you get through them as if you were siblings. Together, you make a lot of memories and learn how to be respectful in a joint living space. That's not always easy, but doing one of these eight things for your roommate keeps the vibe sweet.