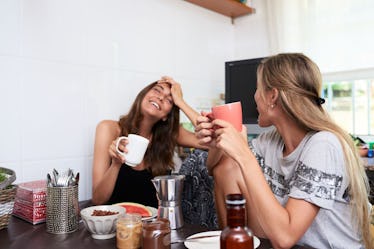 10 Questions You Never Have To Ask A True Best Friend, Because You Know The Answers
Word on the street is that telepathy isn't real. But, you and your best friend beg to differ. You've been speaking to each other without saying a word since almost day one. You glance across the room at her when someone tells a dad joke, and she knows that you're thinking of that time three years ago when her older brother told the same exact joke at a family party. Sometimes, you don't even have to look at her — she just understands exactly what's going through your head and why. These questions you never have to ask a true best friend like her, because you're always on the same page. You both already know the answers — it's as simple as that.
With a true best friend by your side, you don't have a worry in the world. You could have the worst day ever, and it won't matter at all by the time you go to bed. She'll send you a bunch of funny memes by then, and turn that frown upside down. Spilling your coffee all over your new shirt, or completely failing that exam in psychology will just be an afterthought.
And when it comes to your friendship, it's no different. Together, you have your relationship down to a very easy science — it's low-maintenance, but still meaningful as ever. That's why these 10 questions feel kind of irrelevant in the grand scheme of things. The answers are pretty clear every time, because you are truly best friends.