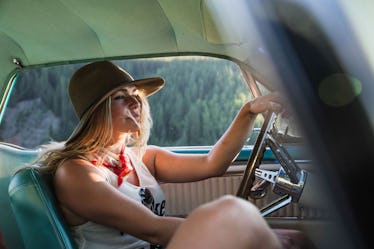 7 Fourth Of July Road Trips That Are Better Than Going To The Beach With Your Besties
Let's be honest: Everybody is going to be headed to the beach for the Fourth of July. They're going to be packing up all of their s'mores supplies and super cute bathing suits, and spending the day hanging with the waves. But, you're sort of bored with the same old scene, and I really don't blame you one bit. You have all summer to enjoy the sun and surf, but only limited time away from your schedule to hit the road with your best friends. These Fourth of July road trips will be so much better than going to the beach. Dare to be different on this one, OK?
America really is beautiful. There's an endless amount of national parks, and those highways that stretch for miles in the middle of the desert. You could spend weeks in the bustling cities and still not see everything, and the beaches along the California coastline are a must. Where do you even start? I wish I had the answer to that question, but like you, I'm still trying to prioritize my incredibly long bucket list.
The Fourth of July, though, is the perfect time to check some things off. Taking a road trip with your besties is something I think everyone needs to do in their 20s, and you'll likely all have at least one day off of work to get out of town. Consider one of these seven trips to make some new memories.