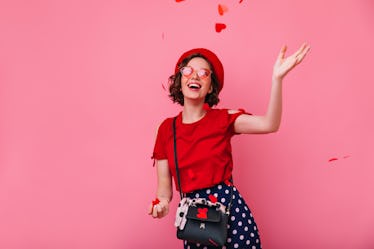 6 Mantras To Recite If You're Single & Celebrating It On Valentine's Day
Shutterstock
Fam, there's an unfortunate misconception that Feb. 14 is for lovebirds only, and I'm here to clear it up. Single humans, too, deserve to celebrate Valentine's Day — and there's hardly a better way to do so than by practicing self-love. In fact, if you're single on Valentine's Day there are certain mantras you can recite that can not only ease the struggles that come with celebrating solo, but even potentially allow you to appreciate all that your single status entails.
Unless you've practiced them before (shoutout to all the yogis and meditation enthusiasts), you may be wondering: WTF is a mantra? The word, which has Sanskrit roots, essentially translates to "mind tool." And that's exactly how it functions — as a mechanism to shift your mindset, and retrain your brain to latch onto positive thoughts. Skeptical? A 2015 study published in Brain and Behavior demonstrated that the repetition of a single word could cause significant shift in subjects' brain activity. Specifically, researchers discovered that the area of the brain most impacted by repeating a mantra is the region linked to predicting, internal evaluation, mind wandering, and rumination. In other words, these repeated utterances can give the part of your mind that's anxious, obsessive, or self-involved a serious chill pill.
Now that you're on board with mantras, it's time to find some that will speak to your single self. As your social media feeds start getting cluttered with sappy posts (and you start wishing you could just fast forward to Feb. 15), consider embracing your solo status by saying these powerful statements.