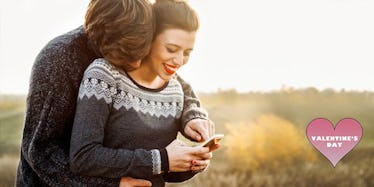 How To Not Be Lame When You Write A Couples Valentine's Day Post On Facebook
Studio Firma
Hey, happy couples, Valentine's Day is coming up! That means you might feel inclined to share your love on social media, via Facebook, Twitter or Instagram, and tell all of us out here just how stinking adorable you and bae are!
Here's the catch: Not everyone cares.
According to Elite Daily's reader survey, 28 percent of men and 35 percent of women feel apathetic in general towards Valentine's Day, so you can count on it being EXTRA hard to get people to give damn about your personal love story.
Crafting a post about your relationship can be as dangerous as it is adorable, and there is a fine line between "gag me with a spoon" and "I love this so much I could vomit." In fact, most men (28 percent) and women (21 percent) feel some combination of "aww" and "eww" when looking at coupley Facebook or Instagram posts.
Below, using some key celeb Instagram examples (and cough myself cough), this is how you can make sure your couples Valentine's Day post garners all the likes and is anything but lame:
Know your audience.
Give the people what they want! Meaning: Who are you sharing this with REALLY?
If you are in crazy, stupid love, have a baby or a husband and all of your Facebook friends are jaded, single maniacs, maybe spare them the family photo and mushy words. You'll get the most love on a straight forward pic of you and your man or woman.
Likewise, before posting anything ask yourself these questions: "Who is this for?" and "What reaction do I want?"
It's OK if it's to make people jealous, throw your happiness in other people's faces or to make yourself feel better about who knows what, as long as those are your intentions and you're ready for the feedback that follows.
Wrong
Please, Beyoncé, PLEASE do not pretend you and Jay are normal people. If it weren't for your inner magical powers always glowing in your eyes, you might trick people into thinking you're a mere mortal with a mere mortal boyfriend in this photo.
Instead, give us Queen of the Universe!
Right
YES, THIS IS RIGHT. YOU ARE ROCK STARS. YOU ARE GODS. YOU ARE RICH, FAMOUS AND BEAUTIFUL.
Keep it simple.
Look, none of us are in your relationship. We don't need to know all the details.
Posting a crazy-revealing photo (like the one below) OR a super wordy, lengthy novel about how your love is everlasting puts you at risk of sharing TMI and putting people to sleep.
Get to the point. You're happy. You're in love. We get it.
Wrong
IT'S TOO MUCH! I CAN'T HANDLE IT. I DON'T WANT THIS.
Right
Ugh. Perfection. Beautiful. Family.
Show your personality.
Anybody could write a caption that says "thankful" or "love this guy," but no two relationships are the same! Show off what makes you guys special and such an awesome duo.
Give your friends and connections a sneak peak into all the fun you and your honey boo-boo have together. It'll make for some serious "aww fun!" responses, instead of "aw man, gross."
Wrong 
Come on. I know you can do better than that Chrissy.
Right
THANK YOU. That's the KFC and flaming onesie we want to see!
Keep it funny.
You can't go wrong making fun of yourself. Everyone much prefers a little self-deprecation over some sentimental mumbo-jumbo they can't relate to.
This is me and my IRL boyfriend below being boring idiots in the first photo and hilarious (fake) party animals in the second on New Year's Eve.
Wrong
"Hello. We are 27 and 31 years old respectively, but here we are looking like two elderly folks before they drop their blue heart necklaces into the ocean."
Right
Ugh. Hilarious. What heroes.
Stay self-aware.
Just remember not everyone is inside your mind or relationship. What might start out as a good intention to shout your joy from the rooftops could come across as cocky, passive aggressive or needy.
Remember, your message is just to say, "Hey, I'm happy with my person," and not to comment too much on anything (or anyone) else.
Wrong
I understand what Kristin was going for — defending her husband and complimenting his looks.
However, she managed to offend a whole demographic by suggesting there is something unattractive about being heavy, a lesbian or both. Woops.
Right
Much better. Nice photo. Lovely caption. Adorable couple.
Stick to the basics. Be authentic. Do not hashtag #powercouple because THAT IS NOT UP TO YOU, THAT IS UP TO BEYONCÉ.