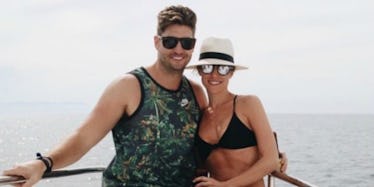 Kristin Cavallari Calls Husband '300-Lb Lesbian' After Haters Attack Boat Pic
Instagram
Chicago Bears quarterback Jay Cutler just can't catch a break.
The 33-year-old already has a reputation among fans, players and coaches for being, well, somewhat soft.
Now, he's reportedly being fat-shamed on social media thanks to a photograph his wife, Kristin Cavallari, posted on Instagram.
After the Bears missed the NFL playoffs for a sixth consecutive season, Jay Cutler and Kristin Cavallari apparently decided to take what looked like an awesome tropical beach vacation to Mexico.
However, one of the photos Cavallari posted on Instagram received some pretty harsh criticism from folks on social media.
Here's a photo of Cavallari and Cutler on a boat, which prompted quite a few people to fat-shame the Chicago Bears quarterback.
To caption the above photo, the former "Laguna Beach" star wrote,
I had the best birthday of my life and it was all thanks to this guy. Not only did he plan a huge surprise party, he planned a 'surprise' trip to Mexico with some of my closest friends, too. Thanks, babe... you will probably never see this.
Seems harmless, right? Well, the above photo prompted one person on Instagram to write,
WTF did he eat himself
Yikes, that's pretty harsh. Another individual wrote,
Who's the lesbian on the left?
Damn! What's wrong with people on social media? People in general, really.
In response to the fat-shaming her husband received, Cavallari posted another photo of her man in Mexico.
To caption the above photo, the 30-year-old former reality star wrote,
Husband and gusband. And since Jay looked like a 300lb lesbian in my last post, I felt I should do him justice by posting him looking hot AF in this one.
Now that's how you own the haters.
In a recent interview with People magazine, Kristin Cavallari stated she has no problem with people coming after her, but she will not allow anyone to go after her family.
She said,
I've been dealing with criticism since I was 17. When it's me, I can handle it, I can take it. I have thick skin. When it's about my kids or my husband, I get really defensive. And then I become a little fighter, and I've been known to get a little trigger-happy sometimes.
I'm just going to say it, that's really hot.
Citations: Kristin Cavallari Defends Husband Jay Cutler After People Fat Shame Him on Instagram (People)