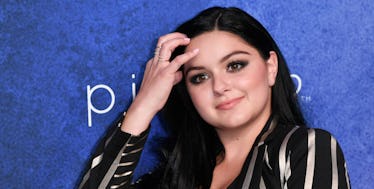 Ariel Winter Posts Sexual Pic Kissing Her BF While Showing Off Her Bare Butt
REX/Shutterstock
Look, at this point, the entire Western world is all too familiar with "Modern Family" star Ariel Winter's extremely sexual posts on Instagram and various other social media channels.
The 19-year-old has gone on record several times to say she doesn't really care what you think about her revealing photos, including the slew of recent pics she's posted of herself and her new boyfriend, Levi Meaden.
In December, Ariel Winter took to Instagram to post a photo of herself in a sexy Santa suit alongside her boyfriend, and it was the perfect holiday treat.
Now, Winter is at it again after she posted a sexual picture kissing Levi Meaden while showing off her bare butt. The 19-year-old posted the photo in celebration of "Man Crush Monday," proving she's obviously the best girlfriend ever.
To caption the above photo, Winter wrote,
Chickpea & Pinto Bean #mcm
So, do you think Ariel Winter is Chicpea or Pinto Bean? Seriously, this is the kind of question that keeps me up at night.
Interestingly enough, the above photo was actually first posted by Levi Meaden, as a birthday tribute to Winter.
Winter's boyfriend posted a color version of the photo, which was taken at the 19-year-old's birthday bash on January 29.
To caption the above photo, Meaden wrote,
Happy birthday to this gorgeous lady!!!!!
Aren't these two just the cutest?
If you don't agree, just keep your opinion to yourself, OK? Winter addressed the haters in an interview with Elite Daily last October.
Speaking on her life decision to ignore the negativity she faces on social media, Winter said,
Now I post a photo and I don't care. If you're going to write something on it, whatever… If somebody doesn't like what I'm doing, you can unfollow me. When you see people's negative comments on your Instagram or your Twitter or whatever, you gotta think there's something not going well in their lives to make them need to post this. So it's never good to write back something negative. Writing back something positive and beautiful… is what's more empowering for you.
Get it, girl!
Citations: Ariel Winter and Boyfriend Levi Meaden Share Steamy Kiss in Instagram Throwback (People)