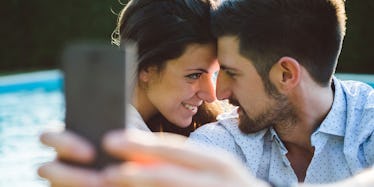 Why Posting About Your Relationship On Social Media Is A Sign It's Failing
WAVE
This just in: If you're obsessed with posting photos of you and your boo-bear on social media, it might mean bad news for your relationship.
Sexologist Nikki Goldstein said that couples who seem more in love online often have a hidden agenda in promoting their relationship and could be masking insecurities or other troubles in paradise.
Goldstein explained to The Daily Mail that constantly posting photos of you and your partner is often more about the "likes" and less about sharing a true moment of happiness or creating a real memory with your partner.
She said,
Often it's the people who post the most who are seeking validation for their relationship from other people on social media. The likes and comments can be so validating that when someone is really struggling, that's where they get their up from - not the person making the gesture, but what other people will say about it.
And hey, we've all been there...
(Hint: That's me and my boyfriend. But we're actually in love, right babe? ...babe?)
Another reason people might shout about their love life online is to subtly display possession of their partner, essentially to say, "Hey, this person is mine," or to send signals to an ex to "back off."
Either way, the move is self-motivated and not for the benefit or your partner or relationship.
Goldstein uses the recent "Bachelorette" split between Sam Frost and Sasha Mielczarek as a prime example of this behavior.
Goldstein claims the way Sam would caption her pictures with her then-boyfriend as "my man" or "my babe" is another red flag signaling territorial motives.
And it turns out, after portraying what seemed to be a loving, sexy and romantic partnership online, the couple split after dating for 18 months.
Goldstein explains a surefire way to figure out what your social media feed might reveal about your relationship is to ask yourself these questions: "Are we the same in the real world, away from our screens, and are we more concerned about how the relationship actually is, or are we more interested in how it looks online?"
In my case, my boyfriend and I are pretty in love, but also, DAMN, look at all the likes we got. Not bad for a non-celebrity and very normal person, AMIRIGHT?!
Citations: From Sam Frost's gushing posts to Pia Muehlenbeck's laid-back love: How the pictures you post on social media could determine if YOUR relationship is on the rocks Read more: http://www.dailymail.co.uk/femail/article-4115946/Sexologist-Nikki-Goldstein-says-loved-social-media-sign-relationship-failing.html#ixzz4VfBbi4jl Follow us: @MailOnline on Twitter | DailyMail on Facebook (Daily Mail)