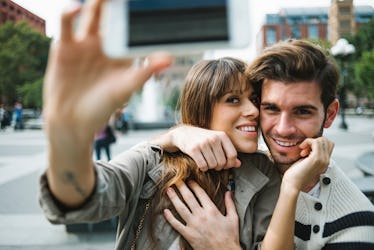 6 Things A Good Partner Will Always Do On Social Media That Prove They Care About You
No matter how much emotional weight you put on social media, knowing the best way to support your bae on the various platforms can be tricky. But the reality is that social media is important to the vast majority of millennials, and knowing that bae has your back (even virtually) is definitely a good feeling. The things a good partner will do on social media might not be exactly the same for everyone, but (as with most things) if it's important to you, then your partner should 100 percent be making an effort to be one of your biggest social media fans.
Once you start dating someone, it's totally normal to feel hesitant before breaking the ice on Instagram with pictures and posts galore. But once you're official, your partner shouldn't be acting like you're just another one of their followers by hitting you up with the occasional like. Putting your life on blast can be intimidating for a lot of people. No one likes waking up to a well-crafted seasonal 'gram of a pumpkin patch they posted, only to find that it got a grand total of three likes, none of which were from bae. If your partner isn't good about doing the following things, then you are well within your rights to let them know you need to see a bit more social media love.