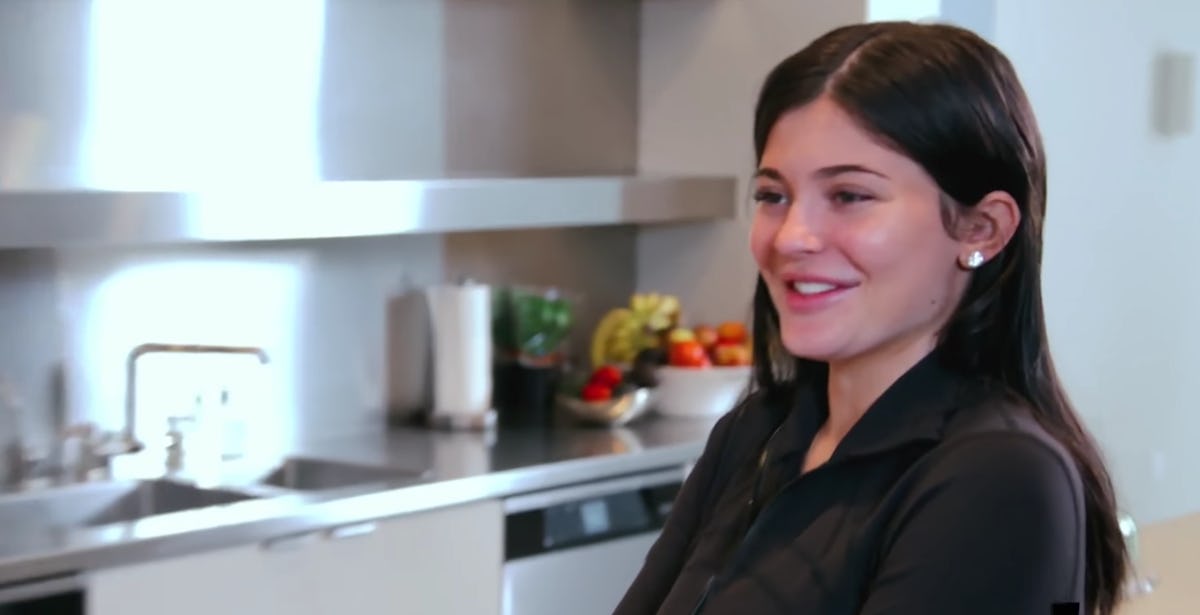 These Kylie Jenner Scenes From 'KUWTK' Basically Predicted She Would Be A Young Mom
YouTube
Weirdly, we weren't that surprised to hear reports suggesting Kylie Jenner was pregnant. Even though she is only 20, Jenner arguably had to grow up quicker than all of her sisters and has always discussed wanting a regular, family life. Going back through the Keeping Up With The Kardashians series, there are a few scenes that should have tipped us off to Jenner wanting to start a family early. These Kylie Jenner KUWTK scenes definitely seem to prove she was always going to become a young mom.
Let's be real, family is really important to this group. Despite allowing the public into their most private, intimate, and embarrassing moments, the Jenners and Kardashians have always stuck together. It makes sense for Kylie to be very family-focused. She ended up on television when she was just 9 years old, and grew into the young adult we all know and love today in the public eye. Throughout that time, she watched her older sisters grow families of their own, and Kylie became a loving aunt to seven nieces and nephews (so far, with an eighth on its way).
Long story short, Kylie definitely has a predisposition to babies and an affinity for huge families. Of course she would want to start her own family.
Here are six scenes in KUWTK that hinted at Kylie becoming a young mom.
1. When she bought her first home at 18 years old.
I'm knocking on 30 and still do my laundry in a massive room shared by at least 50 strangers. For Kylie, she became a legal adult and homeowner all in the same year. Just a little ahead of the curb, don't you think?
2. When she held that baby pig like it was her own child.
We all know Kylie LOVES animals and has as very maternal and nurturing way about her. Once she was done hilariously confusing this baby pig for a chicken, she cradled it like she birthed it herself.
3. When she cooked enough taco shrimp to feed her entire camera crew.
Look, if cooking is a pre-requisite for becoming a mother, then I can never have children. My kids will grow up on peanut butter sandwiches and Jimmy Johns subs. Kylie's kids will grow up on gourmet tacos and mineral water.
4. When she knew to take her and her family's safety seriously.
Paparazzi is no joke when you're a Kardashian or Jenner. In this scene, we see Kylie outrun the paps with just a learner's permit. The instinct to protect herself and her family has been engrained in her for so long, we're sure she's going to make an amazing mama bear.
Kylie has never been shy about her real dream to move to a farm and live a "normal" life. During an episode of KUWTK, Kylie told Kim and Kourtney,
Some people are born for this life, and some people aren't, and I just know I'm not supposed to be famous. Like I can feel it deep down inside.
Maybe she was born to be a mother, perhaps?
6. When we saw her holding baby Dream.
Please look at the grace, poise, and love oozing out of Kylie in this quick clip. Sporting grey sweats and no makeup, Kylie looks more content, secure, and comfortable with a baby in her arms than she does on the red carpet.
All of this to say, congratulations, Kylie! Not that we can say anything is official-official, but we suspect you know that we know there may be a baby inside of your belly right now (and we think that's awesome).
You're going to be an amazing mom, whenever that day comes!
Check out the entire Gen Why series and other videos on Facebook and the Bustle app across Apple TV, Roku, and Amazon Fire TV.