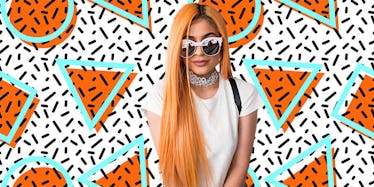 Kylie Jenner Opens Up About Why She Doesn't Want To Be Famous Forever
REX/Shutterstock
Kylie Jenner has spent nearly half her life in the spotlight. Considering she's only 18, almost all her most vivid memories are post-fame.
In her cover interview for the August issue of Allure, Kylie claimed a life of constant public attention and scrutiny is the only kind she recalls living.
She shared,
I can't remember what it's like not to be famous… I'm a special case.
Kylie has had to learn to decipher between real fulfillment and the short-term rush provided by material things.
She said,
I'm able to appreciate what true happiness is all about. A new car, that's not real happiness. That lasts a month. That's short-term happiness.
The reality star and cosmetics entrepreneur insisted "being with your friends" is one way to feel truly content, in addition to the close ties she shares with her sisters.
She added,
Honestly, if I didn't have my family in my life, and I was going through all of this myself, I don't know what I would do.
While "all of this" — the fame, the money, the success — is great in the short term, Kylie admitted it isn't something she plans to cling to for eternity.
The "Keeping Up With The Kardashians" star told the magazine,
I know I don't want to be famous forever… There's gonna be a time where I feel comfortable, I'm at a good place in my life, and I just stop.
A world in which the lips/butts/faces of the Kardashian/Jenner family aren't ubiquitous is hard to imagine, but the world lived without them prior to 2007.
Surely Kylie has a shot at fading into obscurity. Some day.
Citations: Kylie Jenner Says She 'Can't Remember What It's Like Not to Be Famous' (People)