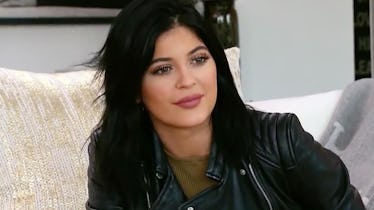 You Probably Forgot About These Hilarious Kylie Jenner Moments On 'KUWTK'
E!
Every Kardashian brings a certain joy to our television screens. When Keeping Up With The Kardashians made its debut in 2007, the world didn't know just how popular this family would become. Now, ten years later, each Kardashian has essentially become a household name. But there's one sister in particular that has definitely made a huge impact on their audience, and that's Kylie. I mean, let's face it: She's so popular that she's even garnered her own spin-off show, Life of Kylie. So yeah, girl is crushing it. And for a good reason – she's funny as hell! We have the best Kylie Jenner moments on Keeping Up With The Kardashians to make you laugh, because you know what? Amid all these pregnancy rumors that have been going on with her, I feel like we could all use a good distraction.
So go ahead, take a look below. You've earned it.
The episode when Kylie pretended to be Kim:
I love a good Kardashian throwback, especially if it involves Kylie and Kendall. They were so young! So adolescent! So... normal-looking!
In the clip, we see Kylie and Kendall just ~chillin'~ and Kendall eggs Kylie on to imitate their sister, Kim. "Do her pose that she always does!," Kendall says. And man, does Kylie deliver. "I am Kim Kardashian! I am fabulous and I am the best, and everyone does what I say and soon, I'll be queen of the world!," Kylie imitates. (And honestly, she is not wrong.)
Kendall then pretends to be Mama Kris, saying, "You're my favorite daughter," to which Kylie (acting as Kim) responds, "Thanks, Mom!"
Could I love these two any more than I did in this moment?
The episode when Kylie rocked a stripper pole:
Who could forget when Kylie showed up her sister when it came to a striptease. She walked in the room with heels that were, at minimum, 8 inches high, saying "Look what I can do!," and just when you thought she would just, like, swing around the pole like a normal 'tween, she freaking PERFORMED like nothing anyone has ever seen before.
Like, I'm sorry, but how old are you?
Look at the shock on Kim's face:
That's right, Kylie. You show 'em how it's done.
Kylie spoke to E! News about some of the moments on KUWTK that she'd like to forget, and this one – shocker – was at the top of her list. She said,
Probably the stripper pole ... the stripper pole was so embarassing. I wish it never happened.
Sorry, Kylie, but I'm pretty sure that this is one of our favorite moments of all time, and it will circulate around the internet forever and ever. Amen.
The episode when Kim and Khloé schooled Kylie on being a homeowner:
Moving out is a pretty big deal. Buying a home is pretty HUGE deal. And Kylie proved to the entire world that, while she might be able to afford her own home, she definitely isn't prepared for the upkeep.
When Kim and Khloé ask Kylie important everyday-life questions, like if she knew how to do laundry or iron clothes, this was her reaction:
Her response to pretty much everything was, "Yeah, no."
But honestly, who needs to do laundry when you're Kylie freaking Jenner?
The episode when Kylie thinks Kris got her a chicken:
Hands down, the most brilliant KUWTK klip is when Kris surprises Kylie with a baby pig, only for the rest of us to realize that Kylie definitely doesn't know what a baby pig looks like.
Mama Kris calls Kylie down "to the foyer" like the diva she is, because she's holding a surprise present for her: a little baby pig. Except when Kylie looks down and sees her mom holding a lil' bundle, she gets SUPER excited, thinking it's a chicken. Upon realizing it's NOT a chicken, Kylie goes, "Wait, what is that? Is that a little pig?" TBH, she looks kind of let down when she realizes that it isn't a chicken, but still takes *some* interest in it. "Does it need something?," Kylie asks – and if that's not proof right there that she probably shouldn't own a baby pig, I don't know what is.
So maybe Kylie isn't meant to own an animal farm. But she is destined to make the world laugh. We love you, Kylie!