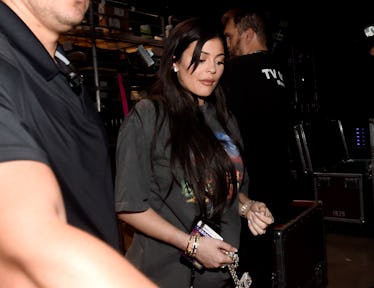 6 Clues Kylie Jenner Is Actually Pregnant, In Case You Still Don't Believe The Rumors – UPDATE
David Becker/Getty Images Entertainment/Getty Images
OK, OK, OK. Everyone, back up. Kylie Jenner is almost definitely pregnant, and it's been an exhausting time trying to sleuth the details out of the deepest corners of the internet and social media. Reports first broke on Sept. 22 that Kylie is reportedly expecting with boyfriend Travis Scott, and since then, nothing has been officially confirmed or denied by literally anyone. So, it's been up to us to do our own investigating, and fortunately I've found six big clues Kylie Jenner is actually pregnant.
Update: On Sunday, Feb. 4, Kylie Jenner confirmed her pregnancy in an Instagram post. She welcomed a daughter on Thursday, Feb. 1.
Earlier: Sure, the internet is a weird place and it's truly none of our business, but fans just can't help themselves. We love to love you (and your maybe-baby), Kylie!
Here's what I've got...
1. Kris Jenner Won't Deny It
Do you guys think a false rumor this insane would go around about one of Kris Jenner's babies and that she wouldn't put an immediate halt to it if it wasn't true?
First things first: Kris Jenner is a business woman. Something of this magnitude obviously affects herself and the various businesses her daughters have going on, like Kylie Cosmetics, for example.
If there is one thing I know to be true in my heart, it's that if these rumors were false, Kris would shut them down in a big way.
Instead, all we got was this weird-*ss comment by Kris Jenner on The Cut,
I just woke up this morning. She's not confirmed anything. I think it's kind of wild that everyone is just assuming that that's just happening.
Mmmhmm... right. Thanks for nothing, Kris.
2. Kylie Hasn't Posted Any New Photos From Her Neck Down
And she usually loves posting photos of her body from the neck down. Kylie fanatics have been quick to point out that any full-body shots the reality TV star has shared have been from old photo shoots or from her neck up — something that is simply out of character for the makeup mogul.
For example, we got this picture of Kylie in a black, oversized T-shirt on Oct. 13.
And when she did share one full-body shot, it was of her wearing an extremely oversized button-up.
Big enough to hide a baby bump, for example.
3. All Of Those Mysterious Snaps
Oh lord, the Snapchats.
From recently posting a video with the caption, "Nothing will hurt you baby" to pictures of literal buns going into the oven, Kylie is giving her fans just enough baby-innuendo to lose their minds entirely.
Sure, she could just be listening to music and making cinnamon rolls, but she knows we're watching and reading into every little (obvious) thing.
She also shared a few Kylie Lip Kit phone covers featuring the traditional baby colors: light pink and baby blue. Kylie teased us with the caption, "Which one? I'm thinking blue..."
HI, YES, I WILL TAKE THIS AS A CLUE YOU ARE HAVING A BEAUTIFUL BABY BOY BUT ALSO IT'S OK IF HE/SHE DOES NOT CONFORM TO TRADITIONAL GENDER NORMS.
4. This Picture Kim Shared Captioned "The Three Of Us"
Fans think this is a direct shoutout to pregnant sisters Kylie and Khloé, who is also rumored to be expecting with boyfriend Tristan Thompson.
Kim has already confirmed that she and Kanye are expecting their third baby reportedly via surrogate, so captioning this photo "The 3 of us..." (particularly when there are five sisters in total, and the three featured here are the ones reportedly having babies) feels super telling.
5. The Matching Butterfly Tattoos She Shares With Travis
Back in June, Kylie and boyfriend Travis Scott revealed the same butterfly tattoo on their ankles.
Now, let's all do the math. June is eight months before February, which is the reported month that Kylie is due.
Uh... tattoo homage to your baby-to-be?
Fans can speculate that the duo got their tattoos around the time they learned about Kylie's pregnancy, and the butterfly image is in honor of their growing family.
6. Kylie Is Legit Missing From The Family Christmas Photo
Kris Jenner recently shared a family photo taken during filming of the Kardashian holiday special, with one noticeably missing participant.
A source told People magazine,
They taped a Christmas special at Kris' house. Kylie was there, but didn't ice skate. She kept in the background, but seemed great. Khloé took it easy as well. It was a scheduled taping.
Kim followed up with the following tweet,
Will it include you and your pregnant sisters being moms-to-be, Kim?!?!
Listen, world, Kylie must be pregnant. How and when she is going to decide to tell us officially is still up for major speculation and multiple internet think pieces, but one thing is for sure: We're ready when you are, Kylie.
Check out the entire Gen Why series and other videos on Facebook and the Bustle app across Apple TV, Roku, and Amazon Fire TV.