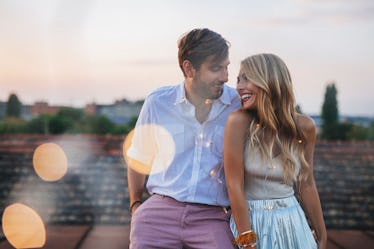 5 Ways To Celebrate Your Partnership If Marriage Isn't Your Style
Simply put, marriage isn't for everyone. Some don't believe in the institution. Others merely don't feel like dealing with the expensive, exhausting process of planning a wedding. Regardless of your reasoning for skipping the nuptials, however, rest assured that there are plenty of ways to celebrate your partnership that don't involve a diamond.
And who says you have to tie the knot to celebrate your relationship, anyway? Sure, a wedding marks an important milestone for some. But even if you don't want to get married, it's still totally possible to express your commitment to your boo. It's well worth the effort, too. Making it a point to find fresh ways to formally declare your love and devotion can make both of you feel appreciated, and in turn, make your relationship even stronger. It could be something you do on the annual anniversary of your first date or the date on which you and bae became "official." Maybe that means an intimate celebration at home, a fancy date night, or an all-out bash with all of your loved ones. The point is, you and your SO deserve to clink glasses and call attention to the fact that you're sheer #couplegoals.
Strapped for ideas? Here are a few super fun ways to celebrate your partnership, sans the "I do's."