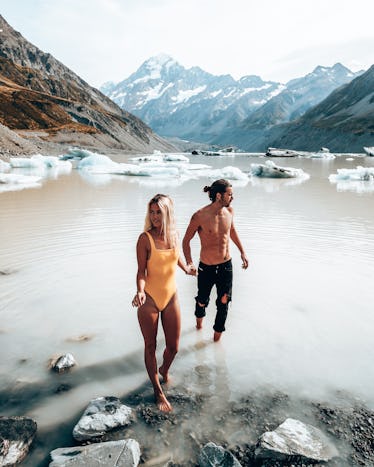 How To Plan An Amazing Vacation With Your SO, According To Pro Travel Couples
At any given moment, you can probably find me planning or dreaming about my next big travel adventure. I'm obsessed with new experiences, and I've definitely learned a thing or two over the years about putting together a foolproof vacation agenda… without breaking the bank, because your girl sadly isn't rollin' in unlimited funds (I wish!). One milestone I have yet to check off the list, but would love to someday, is traveling with a significant other. As for how to plan a vacation with your boyfriend or girlfriend, I'm as much of a beginner as anyone, but I brought in the professionals to help me figure this one out. And let me tell you — they did not disappoint.
Lucky for us amateur travelers, there are real people out there who travel with their bae as a full-time job. These influencers have built their brands off jet-setting for a living, so they've learned to perfect the art of planning a dream vacation that they, their partner, and their followers will all love. I spoke to some of my favorite Instagram travel couples to get their best tips for planning a vacay with your partner, and now they've got me feeling seriously inspired to break out my passport again. Anyone want to book a flight with me?