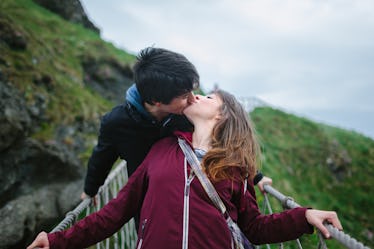 7 Tips For Traveling With Your Partner So You Won't Get On Each Other's Nerves 
I've had vacations with partners go swimmingly (I mean it, we went to Aruba) but I've also had a few that made me want to yell, "Man overboard!" Don't judge me. You would feel the same way if you were confined to a tiny ship cabin with someone you couldn't help but argue with. That's why, for tips for traveling with your boyfriend or girlfriend, I turned to relationship coach Adam Maynard.
Left up to me, I'd advise you to cancel the whole thing. Fake a stomach flu. Leave the country (alone!). Change your name. Nothing too drastic, really. Recreate the whole goddamn plot of Home Alone to get out of it if you have to. It truly amazes me how two people could board a plane or cruise ship totally in love with each other and not return sworn enemies, and I don't think changes in air cabin pressure or limited Wi-Fi access are to blame.
Maynard says, "It's natural to feel a little frustrated if you're not traveling in a way that aligns with your interests, ideal pace, and other preferences." Things like less personal time and space, shifts in your sleeping patterns, and even dietary adjustments while traveling can make you cranky. That doesn't mean you should take out your frustrations on your partner, though.
Here are seven simple strategies Maynard recommends to ensure smooth sailing on your romantic trip with bae.