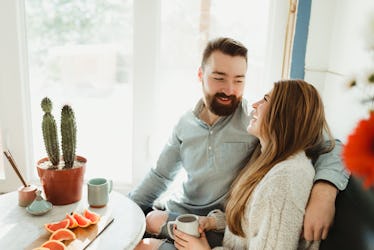 How To Plan A Staycation For A Couple When You & Bae Can't Go On Vacation
If you're reading this while lounging on a beach in Oahu, plotting whether you'll indulge in a Mai Tai or a rum punch come 5 P.M., then I'm a little bit mad at you. It's cold in New York, and all I want to do is soak in that vitamin D and partake in some Spam in Hawaii (assuming they fired that guy who sent out the nuclear emergency alarm). If you are at home and want to pretend like you're not, then let's talk about how to plan a staycation for a couple who is as sick of the cold as I am.
When I was little, once in a while during the winter my mom would set up an indoor picnic for my brother and I. We would spread a picnic blanket out on the kitchen floor, make cute little sandwiches and wrap them in tin foil, and finally break out the juice boxes and cookies to complete the tasting menu. When it's cold outside, doing anything reminiscent of summer days and warm weather while indoors is strangely novel, not unlike the feeling you get on the first day of spring when you put on a short sleeve shirt with no jacket. Beyond having an indoor picnic, here are some staycation ideas for inside your own home.
Treat Your Home Like A Hotel
Start with your bedroom: upgrade your linens, put a weird towel swan on your bed, and place mini chocolates on each bedside table before bed. You can even buy some mini Malin + Goetz or whatever fancy bath products you enjoy to go in your shower. I love staying at hotels because fresh towels and clean rooms and mini toiletries are my jam, so treating your home like a nice hotel is an easy way to upgrade your weekend inside.
Then, Pretend It's Warm Outside
It sounds silly at first, but remember that this staycation is all about playing pretend and shaking things up. Now that you're set up your hotel oasis, break out your bathing suits and summer clothing and turn the heat up to 80 degrees. There's something amusing about wandering around your home in a summer outfit — and maybe even a lei? — while it's 20 degrees outside. It's very "IDGAF" of you and your cutie.
Next, Make A Scorpion Bowl
Yes, you heard me. I had a scorpion bowl at a tiki bar last Friday and for one moment, I forgot that it's my least favorite month of my least favorite season in New York. Order a fun bowl, colorful straws, and Tiki accoutrements and whip up Trader Vic's famous recipe. (Maybe don't try lighting it on fire since you're in your own home and all.)
Finally, Do Whatever You Want
The best part about vacation is the lack of responsibilities. (Or at least that's my favorite part.) You can do pretty much whatever you want, including lie around all day. After indulging in a scorpion bowl, I'd break out some fun snacks and lounge in my "hotel bed" to watch Forgetting Sarah Marshall or some other Hawaii-based movie on Netflix. Or, break out some board games. Then you can cook a fun dinner, or just order Seamless. Who cares! It's vacation! Just make sure you remember that you're in a bathing suit when the doorbell rings, so you don't alarm the delivery person.
The three rules of your staycation should be: pretend, indulge, and relax. Pretend you're in a warm place. Indulge in fancy beverages, food, or Netflix. Relax all day because you're on vacation. Hey, maybe you'll even lose your phone for the day — because you're not actually in Hawaii, so there's no need to post a couples picture from your bedroom to Instagram. Enjoy fake-Hawaii!