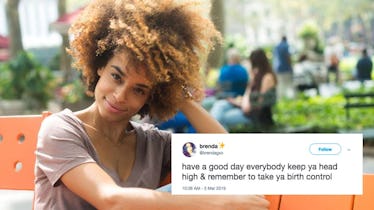 5 Tweets About Birth Control That Are Way Too Relatable If You've Ever Tried It
If you're on birth control, it's possible you have a love-hate relationship with it. Mood swings and the daily plague of remembering to take it every day (if you have a weak memory) make it easy to hate. And the shining hope of lighter periods and not getting pregnant make it easy to love. Looking through the internet's finest tweets about birth control, you'll truly feel this range of human emotion. Because as useful as it may be, actually taking birth control can be a mixed bag. With the benefits of birth control come anxiety, distraction, weight fluctuations, and blood clots (in NuvaRing's case). Don't forget the bloating, stretch marks, scarring, extensive bleeding, and stubborn acne that some women have reported from Nexplanon, a birth control implant.
If you have a vagina and are having sex with someone who can get you pregnant, you probably may have encountered one or more of these issues. Birth control method satisfaction varies from person to person, from method to method. And naturally, as digital natives confronted with anything and everything imperfect, millennials and Gen Z folks will open up the glowing, blue Twitter app to speak on it. Here are five tweets about taking birth control that are all too real if you've ever been prescribed it.