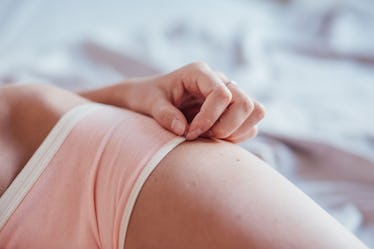 6 Women Reveal How This Super Effective Birth Control Method Affected Their Bodies
When it comes to choosing a contraceptive method, there are a number of options for women. You're probably aware of the Pill and getting an IUD, and you may also have heard of the Depo-Provera shot and the NuvaRing. One of the most effective birth control methods, however, is also the least common. If you don't know about Nexplanon, the birth control implant that goes in your arm, you're not alone. Because it's a relatively new option, the benefits and side effects of Nexplanon aren't talked about as much as other types of birth control.
Commercials about any kind of medication tend to list tons of scary side effects, from ones that are actually common to the super rare — but still possible — outcomes. A spokesperson for Merck, the pharmaceutical company that manufactures Nexplanon, previously told Elite Daily that interested individuals should "refer to Important Safety Information for side effects" relating to the implant. According to the Nexplanon website, the most common expected side effects for use include longer or shorter bleeding during your period, no bleeding at all during the time of your period, spotting between your periods, and varied amounts of time between your periods. "Other frequent side effects that cause women to stop using Nexplanon include mood swings, weight gain, headache, acne, and depressed mood," according to the site.
I interviewed individual women about their honest experiences with the birth control implant, both good and bad. Everyone's body is different, so of course the side effects are going to vary from one person to the next, and just because it happened to one woman does not guarantee it would also happen to you. That's why I spoke to six women between the ages of 19 and 27 and got each of their takes on why they decided to try Nexplanon, whether or not they were happy with the implant, and if they still use it, or if they have since switched to an alternative form of birth control. Here's what they had to say.