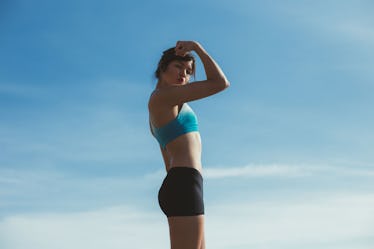 The Birth Control Implant Is Over 99 Percent Effective, But It's The Least Popular Contraceptive
If, like me, you keep seeing those "I armor up" commercials while binge-watching Broad City on Hulu, you might be curious about how Nexplanon works. Just how effective is Nexplanon, the birth control implant that goes in your arm? According to the product website, Nexplanon is over 99 percent effective. This means that there was less than one pregnancy per 100 women who used Nexplanon for one year, a fact that Merck & Co. — the pharmaceutical company that manufactures Nexplanon — confirmed in an interview with Elite Daily.
"Merck is committed to providing women with a range of birth control options, including Nexplanon," Rick Gersh, MD, Global Director of Medical Affairs at Merck tells Elite Daily. "Nexplanon is an arm implant that prevents pregnancy and is part of a category called long-acting reversible contraception, also known as LARC, which are among the most effective birth control options available. When placed correctly in the arm, Nexplanon is over 99 percent effective, with less than one pregnancy per 100 women for one year. It is similar in effectiveness as methods such as injections, intrauterine devices, and even sterilization."
Birth control implants are proven to be one of the most effective, reversible types of contraceptive available, according to the CDC. Nexplanon is much more effective than the Pill and condoms are at preventing pregnancy, and it is even slightly better than other long-term contraceptives like IUDs. According to the CDC, 0.05 percent of general implant users got pregnant in a given year, compared to 0.2 percent of hormonal IUD users and 9 percent of women who used birth control pills.
So, why is this specific birth control implant also the least popular form of contraceptive? According to data from The Guttmacher Institute, fewer women use Nexplanon than any other method. There are 10 times as many women using IUDs as there are who use the implant.
I spoke to Dr. Leah Millheiser, director of the female sexual medicine program at Stanford University Medical Center, about this relatively new form of birth control, the training required for a gynecologist to safely insert the implant, and whether the benefits of Nexplanon outweigh the possible side effects.