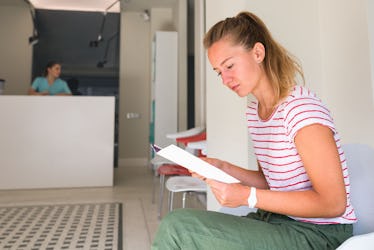 If You're Always Nervous About Going To The Gyno, Here's How To Feel More Comfortable
The first time I paid a visit to my OBGYN, I begged my mom to come with me for moral support. I wasn't the type of person who felt comfortable talking about, let alone showing my private area to a total stranger, and her company put my mind at ease. It's been a long time since that first appointment, and now I actually look forward to my yearly exams, but that's me. It's not unheard of to feel awkward at the gyno, no matter how many appointments you've endured, but figuring out how to feel more comfortable at the gyno, rather than just grinning and bearing it when a checkup is necessary, takes a lot of stress off something that's really not supposed to be stressful at all.
Personally, I consider myself very fortunate to be seeing the gynecologist my mother and sister go to. Even though I'd never met him, I felt some level of comfort knowing two of the closest women to me knew and trusted this man, and unfortunately, not everyone is going to have that experience. According to a press release sent to Elite Daily, a national survey issued by Orlando Health found that 40 percent of women were, to some extent, concerned about what their first OBGYN exam would be like. This, Danielle Forshee, LLC, doctor of psychology and licensed clinical social worker tells Elite Daily, is most likely due to something called White Coat Syndrome.
White Coat Syndrome, Forshee explains, is when someone has a fear of visiting the doctor. Depending on how severe of a fear, it can cause people to not only feel anxiety, but it could reflect in their physical health as well by causing "an increase in blood pressure," and feelings of dizziness and nausea. "With the gynecologist," she says, " this is likely heightened to some due to the private nature of that area of our body and topic of conversation."
Just because it's normal to feel nervous before a gynecologist visit, doesn't mean you shouldn't do your best to calm those nerves. After all, you go to the gynecologist to make sure you're in good health, so it's important that you feel comfortable making and keeping these appointments in order to stay on top of whatever might be going down down there. If you feel uncomfortable going to the gyno, here are a few strategies to ease your anxiety ASAP.