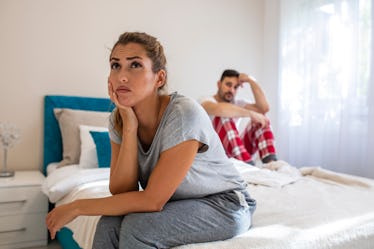 5 Subtle Signs Your Parents' Divorce Is Affecting Your Love Life
Shutterstock
Most relationship experts believe that the number one factor that shapes your view on love is your own life experience. That includes the movies you watched and the music you listened to growing up, and of course, your own personal history. Whether you know it or not, your parents also set a profound example for what to expect — and if their marriage didn't work out, there's a good chance that impacted your approach to dating. In fact, experts say you can look out for specific signs your parents' divorce is affecting your love life.
"A divorce — no matter how amicable — changes a child's life forever," says Dr. Joshua Klapow, a clinical psychologist and host of The Kurre and Klapow Show, adding that the impact can range from subtle to severe depending on the circumstances.
According to Dr. LeslieBeth Wish, a licensed clinical psychotherapist, relationship expert, and author of Training Your Love Intuition, there's an inherent risk of either recreating or over-avoiding the decisions of your caregivers, meaning that their divorce can cause you to subconsciously seek out either a very similar or different bond.
Before you start cursing your parents for ruining your love life, however, know this: The impact that their divorce had on you isn't necessarily always negative. Here are some subtle signs that your parents' split is affecting your own attitude toward dating.