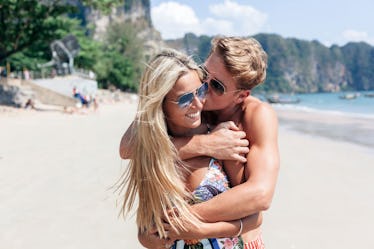 5 Best Things About Hearing "I Love You" Back That'll Make You Fall For Bae All Over Again
Saying "I love you" to your partner for the first time can be simultaneously terrifying and amazing. After mulling over those three words for as long as you probably did, finally saying them and hearing them said back to you is incredibly euphoric — like you've drifted away on cloud nine. And while you're drifting, it's easy to get lost in all the best things about hearing "I love you" back that come once you've said those three words.
I've only ever really been in love with someone once. My current boyfriend told me he loved me for the first time in my bed one February night. The second his big, brown eyes looked into mine, and those words rolled off his tongue, I froze. I wanted to say it back because I was pretty sure I felt it, but what if I was wrong? I didn't want to say it and not know for sure. All I could do in that moment was open my eyes as wide as physically possible and hug him tighter than I ever had before. The next morning, I realized I had been overthinking. I told him I loved him, too, and I've never looked back.
When you finally find the courage to tell your partner you love them, and they say it back, so many incredible things can soon follow. Let's take a look at what life with bae looks like after they say "I love you."